What Color Granite Goes With Honey Maple Cabinets. Choosing granite samples and experimenting with them is one of the most time-consuming parts of a home remodel.
As an added complexity, when choosing the granite to go with honey maple cabinets, the tone of the honey maple chosen for your cabinets will determine your options.
Honey Maple is a flexible wood grain that may be used with a variety of granite colors; however, certain granite varieties are better suited to Honey Maple. Because your decision is influenced by both the color and finish of your cabinets.
What Color Granite Goes With Honey Maple Cabinets
In this article, we discuss the best granite color to go with honey maple cabinets.
Black Granite
When black granite is paired with honey maple, it provides a timeless look.
One of the nicest things about this particular combo is that you have a lot of options when it comes to honey maple varieties.
For example, black granite paired with darker tiles gives a sleek and warm design that is excellent for anybody trying to highlight their kitchen's characteristics, especially if you have steel equipment.
If you don't have dark or medium-toned tiles, however, lighter tones like reddish chestnut brown or creamy light wood grain are preferred to prevent producing an overwhelming impression of gloom.
White Granite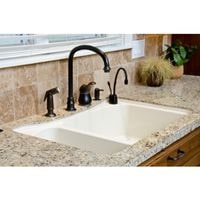 White, like black, is a granite color that may be blended with many colors of honey maple.
Because white is such a good reflector, natural light is likely to flood your kitchen.
A light tint of marble would not detract too much from the brightness and cleanliness of a kitchen with white appliances or other white kitchen fixtures.
It has a fresh and contemporary vibe to it without being too flashy.
Instead of bright honey maple or deeper whites, we propose gentler tones such as warm browns for bigger kitchens.
Slate Grey Granite
Slate grey granite with honey maple cabinets is a popular choice. Granite comes in a variety of grey colors, so you can always find a slab that will mix in with the room's darker elements while keeping the area light.
Slate grey granite contrasts white appliances less starkly than black granite, making it a great choice for a kitchen or bathroom.
When paired with a lighter tone of honey maple, it provides a stark and contemporary look.
That contrast allows your eyes to travel across the space while still focusing on the most significant elements, such as those stunning wood flooring. It's a delight to spend time in the new kitchen.
FAQs
Maple cabinets are dated?
Because maple kitchen cabinets are both sturdy and adaptable, they are an excellent choice for any homeowner.
If you have a modern house, maple cabinets will be excellent for bringing everything together; however, if you have a more classic kitchen design, maple cabinets will be perfect for tying everything together.
Because you'll be dealing with natural wood, there's no need to be concerned about color or texture mismatches after you've decided which ones to use.
Maple cabinets get yellow?
Your lovely maple cabinets have faded to an unsightly yellow color over time. The light natural hue of maple surfaces is due to the clear oil finish, which breaks down over time to revert to its original oily yellow tint.
When this chemical reaction takes place in a dry environment, the finish becomes brittle and vulnerable to scratches and dents.
Related Guides