How to insulate a garage cheaply. Insulating a garage is one part skill and two parts knowing what you're doing.
When insulating your garage with spray foam, it's important to keep your temperature levels in mind.
You don't want things to get too hot, but keeping the area cool enough might pose a problem as the foam expands at temperatures above 120°F.
A cooler insulator dimension may prove more effective although the latter is often less desirable due to additional costs.
How to insulate a garage cheaply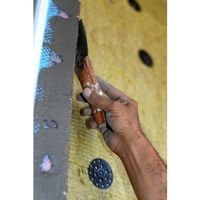 Fiberglass roll insulation is the easiest type to install provided that your garage and its walls have not been altered.
Unroll the product between the wall studs with the vapor barrier side facing inward in order to prevent moisture damage that might otherwise occur.
Choosing the Cheapest Insulation type
Choosing the right insulation for your garage will depend on a few factors, such as the climate you live in and the construction of your garage itself.
It is important to make sure that any insulation materials you use have been tested and verified as effective by an accredited laboratory so that you know they are up to code and can reliably help reduce heat gain or loss through conductive heating or cooling.
The higher an insulating material's R-value, the better it can resist heat conduction and thus retain thermal heat during colder weather conditions.
Fiberglass Insulation
Roll insulation made from fiberglass is the most affordable of all types and is comparatively easy to install.
As long as your garage has interior walls with framing, placing the insulation between the studs should be quite simple and straightforward.
The trick is to make sure you're using a staple gun to set 1/2-inch staples in intervals of even 2 feet along the edges of the insulation into each stud so that it stays snug.
If your garage attic or other areas have joists you simply want to lay down flat, just run this material between them so that they don't have to be secured.
It's important not to roll or compress fiberglass isolation because it will lose its effectiveness out of its original shape.
Cellulose Insulation
Installing cellulose insulation in a garage after it has been framed can be a bit tricky as there are so many small spaces that may prove difficult to reach.
If you've insulated your garage before with spray foam, it becomes much easier because the majority of these spaces already have things like metal vents and wire conduits running through them.
If you go this route, make sure to use 3/4-inch staples to secure the rafter vents into the wood frame adjacent to any existing soffit vents you'll want to make sure that the cellulose insulation doesn't interfere with airflow into the soffit vents.
Insulate empty wall cavities using a cellulose insulation blowing machine. Operate the machine according to the manufacturer's instructions and route the output hose through the crawl space above the garage.
Use the hose to direct material into empty spaces between studs and blow till full, then apply additional material on top of the attic floor to insulate the ceiling.
Spray Foam Insulation
Spray foam is overkill for most garage projects because it has a high price tag. But if you already have it and/or it made sense financially to use it in your home construction, then you might as well put it to use by utilizing it to help insulate the space in your garage.
Spray foam's excellent properties include an ability to be used in areas that need sealants, energy efficiency, and resistance to flood waters or any other dampness making them the best insulator of choice when converting a garage into a living space.
Garage Door Insulation
A common rookie mistake is to insulate the garage walls and ceiling without also insulating the big garage door.
You can buy insulation kits for standard metal garage doors, or you can cut pieces of rigid foam insulation or Reflectix sheets to fit each door panel/section.
Keep in mind that some of the structural metal ribbing of the garage door is an excellent conductor of heat, and this typically doesn't get insulated (so it may be a nice idea to include a thin layer there).
As a result, the overall thermal performance of the door will be well below the rated performance of the insulation itself.
Air sealing (excluding air from gaps between the frame and elements) is particularly important with garage doors since they are literally "doors" that open up to allow airflow into your home so be sure to make use of additional weather sealing materials where needed.
How to insulate a garage cheaply
Related Guides